UNRULY THERAPEUTIC
Unruly Therapeutic : Black Feminist Writings and Practices in Living Room
Published by Norton Professional Books Feb 2023
+++
A series of events around the book:
Book to Life 2: Thurs 30 March 7pm – 9pm GMT on line
Hosted by The Relational School
The panel: Dr Gail Lewis, Dr Eiman Hussein, Omikemi, Dr Dzifa Afonu, Dr Akima Thomas OBE., Anthea Benjamin.
Thursday, March 30th, 2023 7-9PM GMT – Online.
Detailed panel bios and tickets can be found: here
+++
Unruly Therapeutic: Black Feminist Space-Making And Living The Change We Want To Be – Boston College
Thursday, February 23rd, 2023 | 6:00-7:30PM (ET) – Fully Online Lecture (Note this is Boston time).
This event is free to the public. Please use the promotional code ETHICSERIES22 to register at no cost.
+++
Book to Life 1: Friday 3 March 7pm :
The invitation: Panel members will share their responses to Unruly Therapeutic then open up the space for further reflections, curiosities and wanderings related to the unruly therapeutic.
The panel will be hosted by Lara Sheehi
Deborah Malmud : is a Vice President at W. W. Norton & Company, Inc. and Publishing Director of Norton Professional Books imprint.
Eugene Ellis – Director of BAATN
Anthea Benjamin
Natasha Holmes
Robert Downes, Chair of The Relational School
Lynne Layton
Beth Kita
Carnella Gordon-Brown
Detailed panel bios and tickets can be found: here.
+++
Words Collect In My Mouth – A Series of Online Talks from Yewande 103. March 8th on line.
+++
Buy the book: (also available on audible read by the author for those who prefer to listen).
To order Unruly Therapeutic in the UK at a special member discount please follow the link below and add the code WN918 when prompted at the checkout.
UK: Unruly Therapeutic – Black Feminist Writings and Practices in Living Room
To order Unruly Therapeutic in the US at a special member discount please follow the link below and add the code WN866 when prompted at the checkout.
US: Unruly Therapeutic – Black Feminist Writings and Practices in Living Room.
Book Blurbs: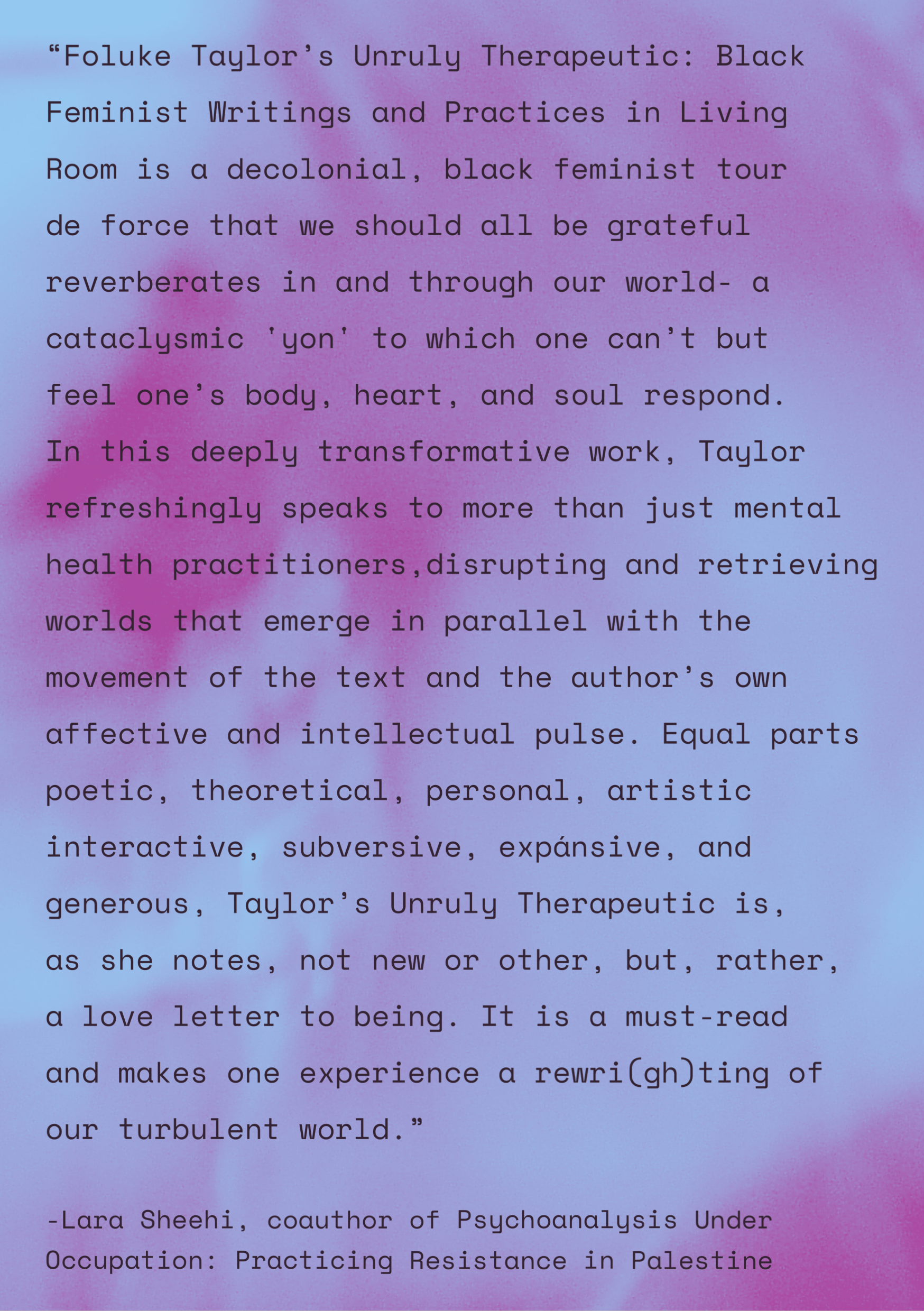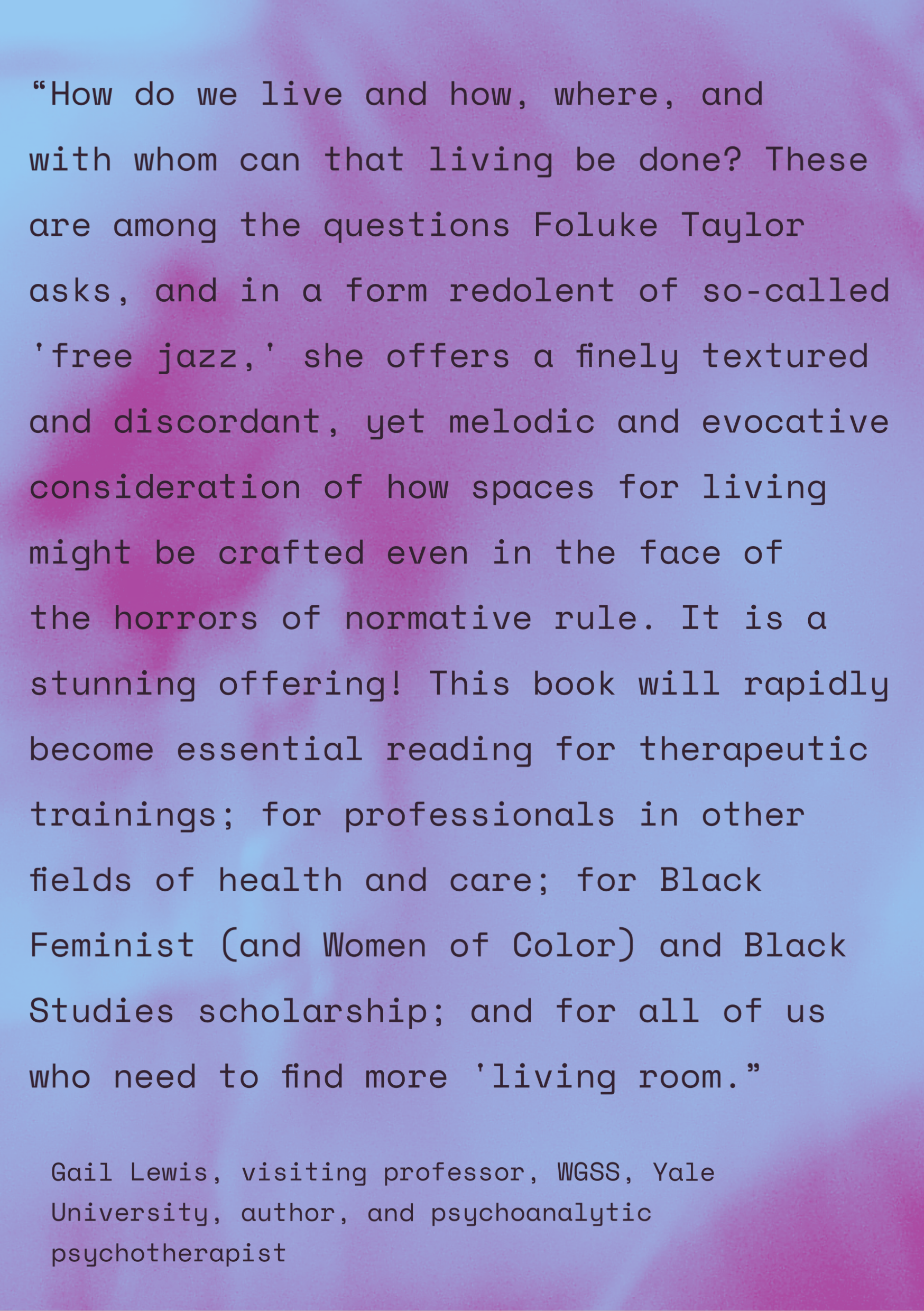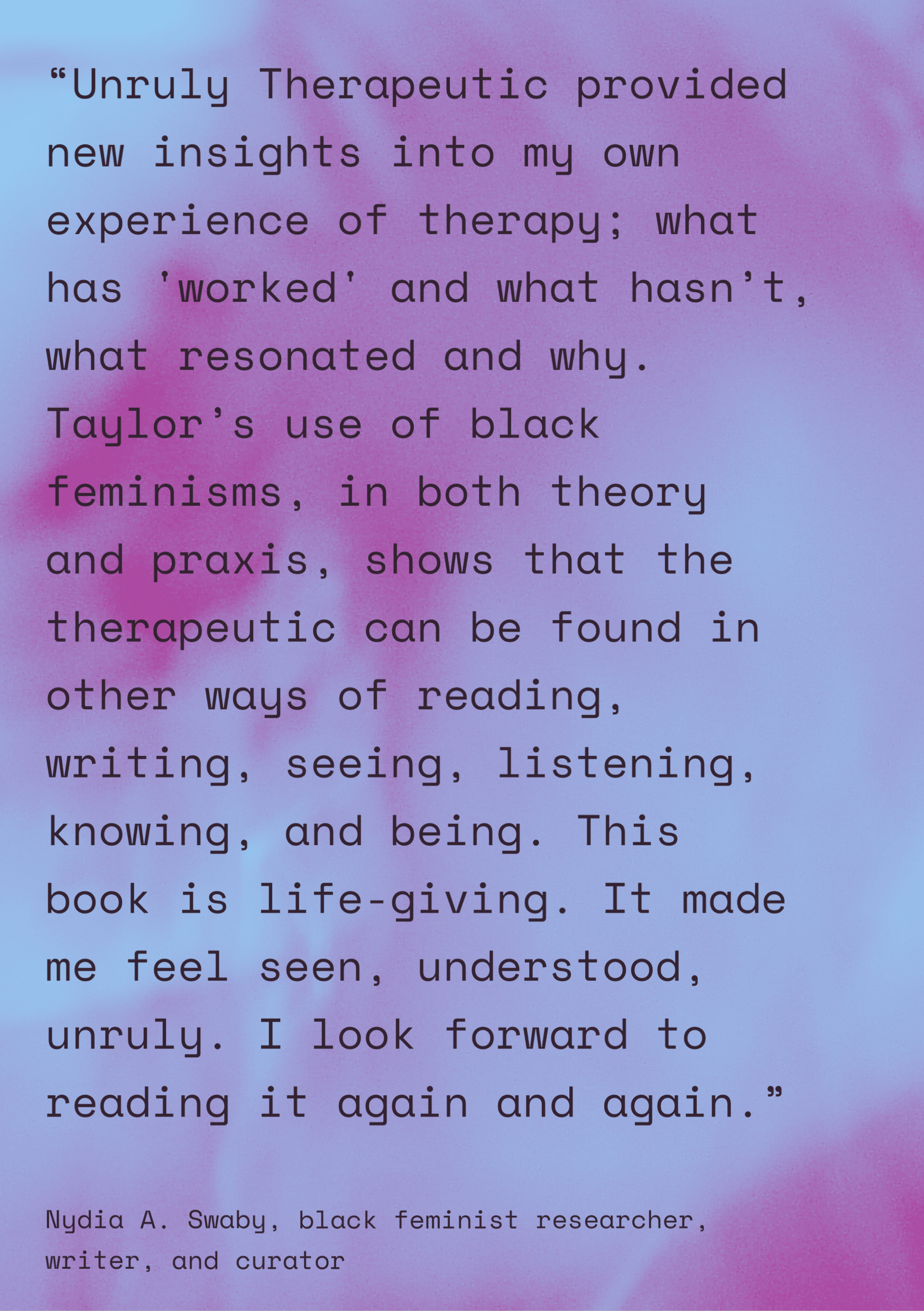 Sensing the Planet (31 October-1 November 2021) was a gathering on climate justice and the intersections of race, art and ecology. Timed to take place just before the intergovernmental climate conference COP26, Sensing the Planet highlighted issues of race and environmental harm as well as the role played by the UK, most prominently the south-west of England, in histories of slavery, empire and climate breakdown. It also championed the role of interdisciplinary artists in imagining new futures built on principles of sustainability and justice.
Online Screening and Q&A: FOUNTAIN by Alexandrina Hemsley, Yewande 103
Wednesday 9th of November: link
We welcome you to this very special online event which includes a chance to experience FOUNTAIN, the new film work by interdisciplinary artist Alexandrina Hemsley (Founder and Creative Director of Yewande 103), in the comfort of your own home.
The screening of FOUNTAIN will be followed by a discussion chaired by Mercy Nabirye, Founder and Director of Kauma Arts, in conversation with Alexandrina Hemsley, and Foluke Taylor, Writer and Psychotherapist.
College of Sexual and Relationship Therapists: Fri 18th Nov
Presentation: Mixed. Race. Relationship. And Other Names for What Cannot Be Said.
An internet search for 'mixed-race relationships' reveals an area of interest and curiosity for many. Researchers, government departments, conspiracy theorists and therapists are out there reporting trends and predictions and offering various targeted training and advice. This presentation explores this interest in how 'race' operates in relationships and asks what 'mixed-race' as a categorical assignment simultaneously makes visible and obscures? By seeking to know more about what we mean (and understand) when we speak of 'mixed-race' relationships, we are invited to think about how these understandings inform and impact therapeutic practice. The presentation will draw on Black feminisms (scholarship and praxis with a long history of navigating with, and in excess of 'race') – to reflect on some of the conversations that 'mixed-race' relationships point us toward and how they can support a more race-relational understanding of the therapeutic
---
Questioning "Diversity" in Psychoanalysis
Lara Sheehi – Liberation, not representation: "Diversity" and stabilizing coloniality
Foluke Taylor – Following Broken Water: Decolonial continuities and therapeutic emergent-cy
This is the third in a series of seminars on Decolonising Psychoanalysis, organised by the Race and Culture Committee of the Guild of Psychotherapists. The series is intended to open up conversations about psychoanalysis by initiating Transatlantic Dialogues between academic research and clinical practice.
In this instance, both speakers are clinicians, researchers, teachers and activists, and their talks address the seemingly intractable problem of 'diversity' in psychoanalysis – within the profession, the theory and the therapeutic relationship.
https://www.eventbrite.co.uk/e/questioning-diversity-in-psychoanalysis-tickets-326620479647
---
---
Black Feminisms in the Consulting Room
---
When being yourself is revolutionary
Precious Agbabiaka & Foluke Taylor
---
Race, imperialism and the contradictory clinic
---